Three years ago, Dr. Miljan Mikić had a vision: to revolutionize the construction industry by leveraging data-driven matching for improved efficiency and transparency in employment processes. Today his platform Orook is making this dream come true, delivering on its promise of maximizing job satisfaction and productivity through smarter connections between companies and engineers.
In an inspiring interview with Miljan, we learn more about what lies behind the scenes. He shares his groundbreaking insights on how to better bridge opportunities between young engineers and companies in the construction sector amidst current challenges – plus, he gives a sneak peek at what's coming next from Orook! Unlock all these exciting revelations by reading this irresistible piece!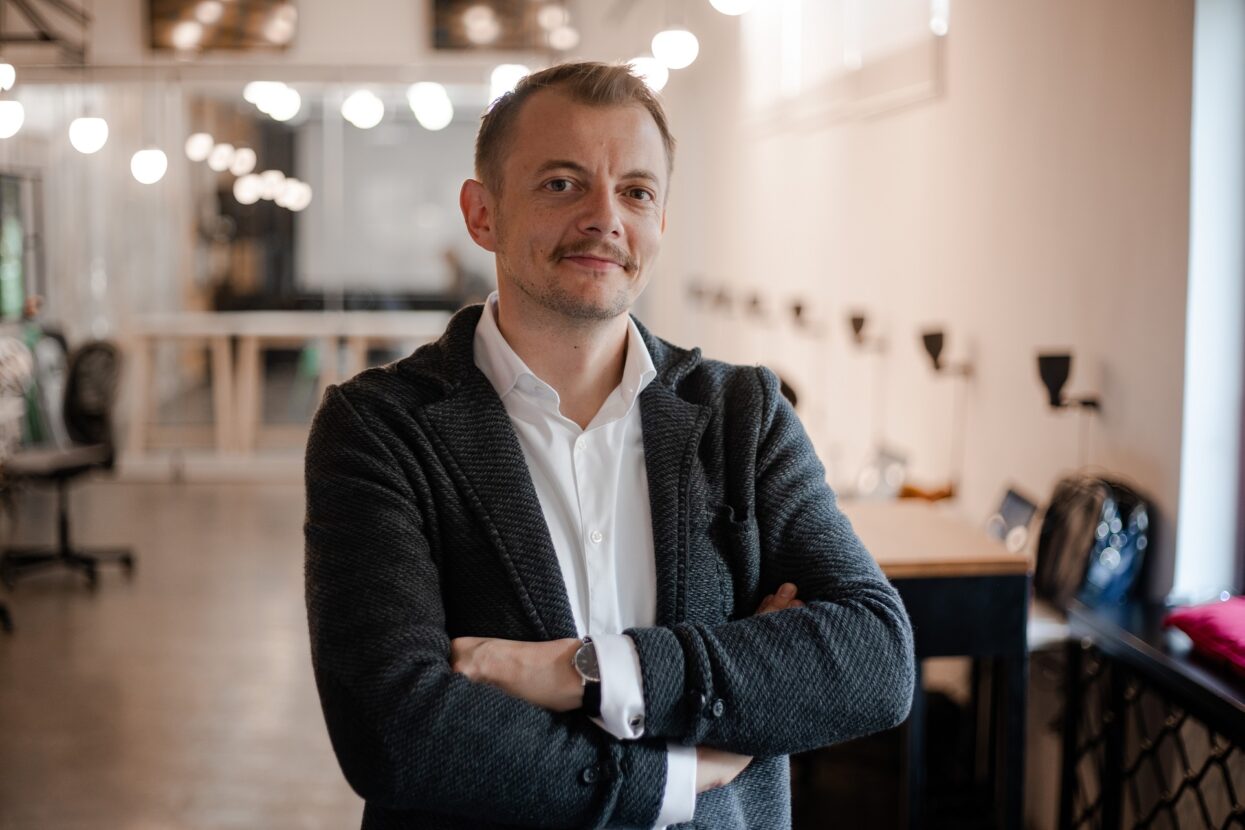 You are engaged in academic and practical work, but simultaneously, you are the proud initiator of one of the most successful domestic Start-up companies. What are your areas of interest?
Helping others learn and develop while being paid is very rewarding. That may be the essence of a university professorship, but it is also a significant part of any managerial job.
My academic career took me from Serbia, where, in 2015., I completed my Ph.D. and worked as an Assistant Professor at the Department of Project Management of the Faculty of Civil Engineering at the University of Belgrade. In 2017 I moved to the UK (to Yorkshire), where I still work as a Senior Teaching Fellow at the University of Leeds.
I teach business strategy, business planning, HRM, organizational behavior, culture, and management in this university's Engineering Management MSc program. I also participated in the successful creation of the first fully online and remote study program.
The exciting thing about this master's degree is that it is an MBA program tailored specifically for engineers. It gathers students from all over the world, among whom there are many senior managers, directors, and company owners.
Alongside my academic career, I worked intensively as a construction and project manager and a consultant (Russia, Georgia, Austria, SEE) for private and public clients, including the European Investment Bank and the Council of European Development Bank. In 2020. I ventured into entrepreneurial waters and founded a start-up platform that focuses on the digital transformation of the construction and engineering industry – www.orook.net.
More importantly, I have continued to learn and develop in IT, economics, construction project management, and more.
What was your primary intention when you started OROOK? What was your goal?
Working with students and graduates, and on the other hand, companies with concrete, practical challenges, I saw a clear need for a more direct connection between engineers of different profiles and experience and fellow construction and engineering companies. Also, I saw the potential of such collaborations that would ultimately benefit both parties.
I formed the idea of ​​a platform for employment in the Architecture, Engineering, and Construction arena (AEC) very early in my career, but that idea was waiting for an "opportunity to meet preparation" moment. Every startup endeavor starts with a concept creation phase, followed by testing and market research through client communication and hands-on engagement.
Shortly after my Ph.D., I made my first attempt, a test for a solution that would later become OROOK.
The idea was simple – to help engineers with a better insight into the market offers and open up more options for career development; for companies – to facilitate the process of finding and selecting relevant professional candidates. This process is significantly shortened when using our platform, not to mention the cost savings. Registration and use are entirely free for engineers.
The platform has been developed by engineers and HR professionals, incorporating in a parametric, easy-to-fill way specific and relevant AEC engineering experience and skillset tracks that, after creating the profile, will allow appropriate matching to available part-time and full-time roles.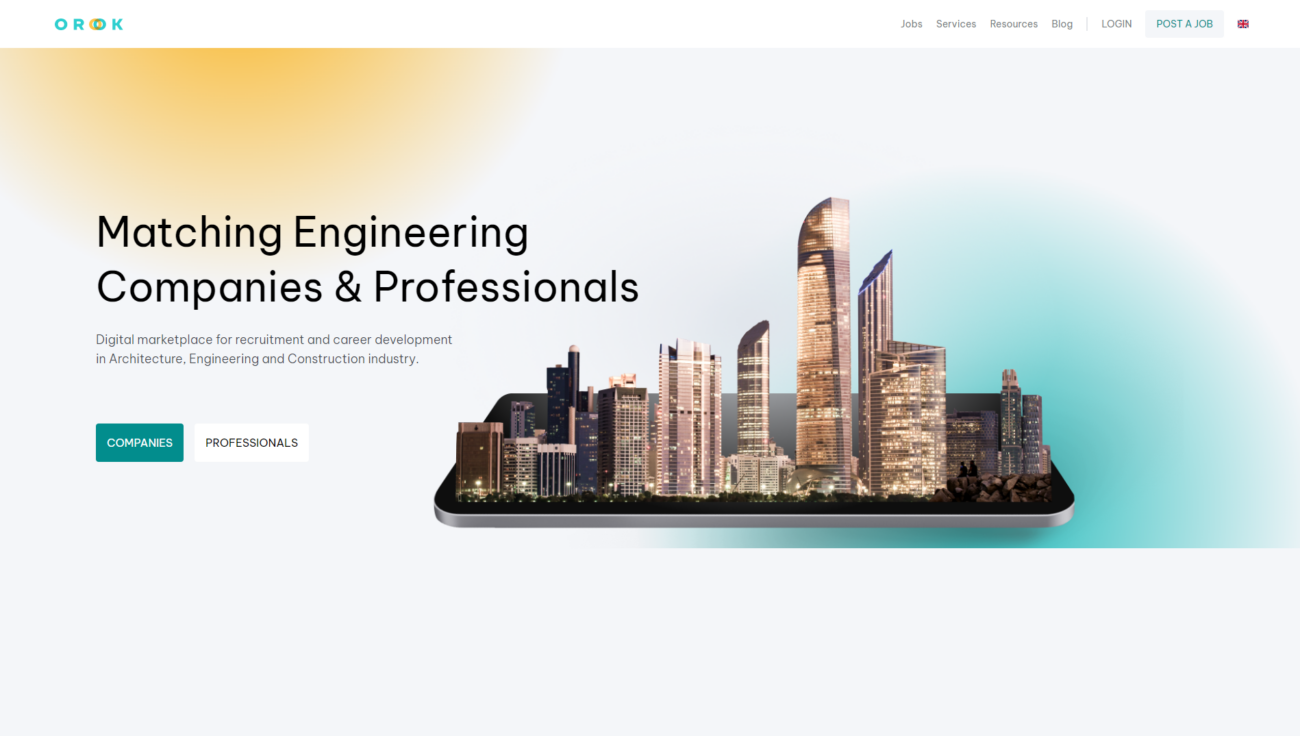 Where does OROOK stand today, and what are your plans for the near future?
It always makes me smile when I reflect on everything we have done so far. We have served over 150 clients and currently have over 5,000 engineers and other professional staff registered on the platform.
To adequately respond to the trust placed in us, we are constantly improving the platform and developing new ways to help the construction industry in its venture to be more advanced. We think a few steps ahead and try to have a clear plan for the future: an improved, automated platform, Orook EDU (first-of-a-kind AEC e-learning platform), and annual industry reports…
The Republic of Serbia Innovation Fund recognized our aspirations. With the support and financial resources from the EU, this year, we are implementing a project that will introduce new functionalities. We are working intensively on breaking through to the international market. We have helped employ engineers from the region and home countries in markets such as the EU, Emirates, Ethiopia, Uganda, Tanzania, etc.
When it comes to stepping outside the region, we are in the unusual position of being an utterly Serbian start-up in the construction field that is expanding outside the country and promoting both the domestic and regional construction industry and the start-up community. This brings much-needed refreshment in the usual practice, where it's more common for foreign-owned start-up companies to look for and engage teams or companies in Serbia as their subcontractors or outsourced partners.
On two occasions, you conducted the extensive market analysis. What general conclusions did you come to?
That's right. We have conducted two extensive industry surveys; both are free to download from our platform (in Serbian at the moment).
In the first one, we compared the expectations and needs of more than 700 engineers in terms of financial and other compensation and motivational factors with what companies expect and are willing to offer.
As a result, a considerable difference was found between engineers-companies expectations at the junior level and higher positions with more experience. (illustration in the picture).
In the second report, we made a detailed overview of the digital, innovative, and sustainable tools and solutions used in the construction industry in our market.
We will proceed with preparing AEC industry-relevant reports for the new regions we approach to provide direct insights for the engineering community we build.

Industry report 2020

Industry report 2020
What are the leading recruitment challenges faced by companies in the construction industry? Can you give us some examples of good practice?
Companies' main problem is reaching relevant and interested candidates faster – so their contracted projects do not have to wait.
Until the launch of the OROOK platform, places for advertising positions were non-specialized platforms or ads, which, although they reached a large number of people, resulted in many candidates who did not meet the required criteria for the advertised position.
The construction industry traditionally relies on the principle of recommendations. It has its good and bad sides. Young engineers don't even have the opportunity to apply, given that they don't have a network of contacts, and on the other hand, a particular narrow circle of people responds to ads in this way.
Today, companies accept innovative solutions in the process of selection and employment. More and more companies are giving scholarships to students, and in that way, they are "reserving" quality young people (so to speak). Representing companies at trade fairs or colleges gives results because, in this way, candidates get to know the company, and the company can form a database with their resumes.
There are also headhunting and HR agencies. Even better, hiring HR that will specialize in the construction industry. Finally, advertising on the OROOK platform specializes in selecting competent candidates.
Where has the loyalty gone? Is there a recipe for retaining quality staff in a design/contractor firm?
When loyalty is mentioned, most consider the employee's commitment to the company. It should be remembered that it is mutual.
Adequate pay has the most significant impact, but often it's not the determining factor in retaining quality personnel. Companies should be aware that a satisfied employee is an employee who is well taken care of.
The recipe comes down to a healthy working atmosphere, opportunities for improvement, opportunities for advancement, and a clearly defined path for that, respect for agreed deadlines, procedures, and conditions, as well as respect for the employees themselves. All of the above, along with valuing expertise and commitment, as well as acceptance and respect for diversity, is something that more and more employees in a specific industry such as construction expect and demand.
Do young engineers today have unrealistic expectations from employers?
From the first Orook industry report (available on the platform free of charge), we see that the views on salaries, working conditions, benefits, and the possibility of advancement differ significantly from the point of view of candidates and representatives of companies operating in Serbia. The truth is somewhere in the middle.
Education, open communication, and understanding on both sides are necessary.
Engineers need to know about today's industry and how salaries, working conditions, and benefits are roughly moving. They should also know their qualities, years of experience, and competence for the appropriate position.
On the other hand, companies need to adapt to the fact that today's generation of engineers is looking for more than just a salary. The construction industry is also changing, though more slowly, and, for example, the notions of working from home or part-time employment are not foreign in this branch either.