Ever since OROOK's beginnings, the platform has revolutionized how architecture, engineering, and construction (AEC) professionals apply for jobs and find employment and how, in turn, companies successfully find relevant candidates.
But recently, OROOK has undergone a major overhaul with its user-friendly design to make sure current and future users benefit from the best features available to help them find success with ease.
Stay tuned because we dive into all of OROOK's new improvements and features in today's blog post!
New OROOK Landing Page
From Idea to Realisation
Determined to provide the most up-to-date and efficient job platform for professionals and companies in the AEC industry, the OROOK team recognized an opportunity to take a fresh approach. Taking into account customer's needs and technological advances, OROOK set out to create a user-friendly solution beyond conventional job placement services.
Over time, the team identified a range of areas where the platform could be improved.
The OROOK team, alongside the project financed by the Innovation Fund from the European Union Pre-Accession Assistance and from the budget of the Republic of Serbia, the line of the Ministry of Education, Science, and Technological Development worked hard to develop a new website offering an even better user experience for job seekers and companies looking to hire top talent.
The end result? A new OROOK website and features that offer a range of new and improved services, including automated job ad placement, tender and consulting services, and educational courses for both professionals and companies.
You no longer have to waste time endlessly searching for relevant information. With OROOK, everything you need is in one place.
Furthermore, if you're looking to further your career with specialized courses tailored to your area of expertise, that's also available through the new and improved website.
With so much to offer, the OROOK platform has truly become the industry norm!
Presenting: New Orook Features
The new OROOK website and platform bring a breath of fresh air for both professionals and businesses, providing them with clear and transparent services and features.
Let's dive into each category separately.
Simplified Profile Registration and Job Search
Professionals no longer need to spend much time and effort filling out lengthy registration forms to set up an account on OROOK. The new streamlined and simplified registration process on the platform allows engineers to easily and quickly create a profile, meaning that they can start looking for jobs in no time!
OROOK's advanced search tools, filtering capabilities, and job recommendations make finding the right job opportunity easier than ever.
With its user-friendly interface and focus on fast registration, OROOK is revolutionizing how engineering professionals access employment opportunities.
Simplified Profile Registration
Educational Courses
For professional engineers, staying current and competitive can be daunting without the right resources at hand. Luckily, in addition to simplified, faster profile registration and current job ads, professional engineers can find all current educational courses and training with detailed content and register online.
So, not only do you have access to active job postings which are easy to find and apply for, but also a library of educational courses and training laid out in detail so you can acquire new industry-relevant skills and boost your employability potential.
Moreover, these courses are available online so that you can watch them at your own pace. It's never been easier to stay up-to-date!
Link to the Orook Edu: https://orook.net/edu
"Recommend a Colleague" Service
This new feature helps your peers get their dream job and win prizes! In turn, you can earn OROOK credits by referring friends or colleagues to job openings. Not only is it a great way to promote professional development, but it's also a fantastic way to show appreciation for talented peers in your industry.

How does it work exactly?
Step 1: Login – Login to your account and browse job openings.
Step 2: Pick a position – Pick a position and start referring amazing talent.
Step 3: Earn OROOK Credits – Get credits that you can use for OROOK edu courses.
New OROOK Feature: Recommend a Colleague
Search the Candidates by Relevance
For valued company representatives, OROOK wanted to provide the best services possible. As a company, looking for qualified individuals who fit properly in your needed role can be hard, but with OROOK, you can sit back and relax. The platform does all the work for you!
The new intuitive system allows you to achieve up to 10 times recruitment cost and time savings by using some of the unique features:
The most relevant pool of engineering professionals
Unique data-driven matching
Instant access to top-level candidates (OROOK picks)
Smart ranking of applications – easy to screen and compare
In case you didn't know, with Orook, you can also easily employ part-time.
Tender Services
Not only does OROOK offer standard automated search and settings services, but the platform also provides exclusive tender services. Now your company can boost the chances of winning an important tender. Gather relevant CVs you need to apply for tenders and win them. OROOK helped companies compile project teams in as little as 7 days!
Check Out the New Tender Service Feature
Promoting Your Company to the Engineering Community
The engineering community is always looking for ways to expand, network, and collaborate. Companies have an incredible opportunity to promote their services to this eager, capable population. Utilizing a direct approach tailored to the industry can be far more effective than a one-size-fits-all message that may not resonate with engineers. By taking advantage of this powerful opportunity, companies can reach new heights by making their brand part of the engineering community fabric and improve employer branding and B2B marketing campaigns by using OROOK's industry research and publications.
Consulting Services
With decades of expertise in construction, OROOK offers comprehensive consulting services to help you tackle your toughest projects. From Structural and HVAC engineering support to BIM implementation and project management guidance, project dashboards, organizational performance, and training, the OROOK team has the skills needed to unleash the full potential of any company.
OROOK EDU
Apart from offering educational courses for professionals, companies can also invest in their employees with OROOK's special educational courses catering to engineering.
Why is that important for your company?
Well, as more and more construction projects emerge, it is becoming increasingly important that employees in the construction industry are well-equipped to deal with the tasks required of them. To ensure a successful construction project and ensure your employees have all the necessary skills to manage their job roles successfully, it is crucial that companies invest in educational courses to help their employees develop both their existing knowledge and acquire new skills.
OROOK offers carefully selected courses relevant to engineers to help you build your overall market position. Whether that is Project Management, Contracts, Eurocode design, Energy efficiency, or Software – get there before others do! Start building up your competitive advantage today!
OROOK Edu
OROOK Industry Reports
Designed to help construction professionals and companies stay ahead of the curve, the OROOK platform provides an exciting new benefit: Access to Industry Reports. These comprehensive documents deliver a wealth of knowledge from top experts in the field and provide insightful analyses of current trends and developments so users can use the data to make well-informed decisions that keep them competitive. 
Furthermore, OROOK Industry reports are available for FREE download on the OROOK dashboard. Simply log in or sign up to the platform to get your copy. And if you need specific research for your organization, you can contact the team that will craft something unique for your company's needs.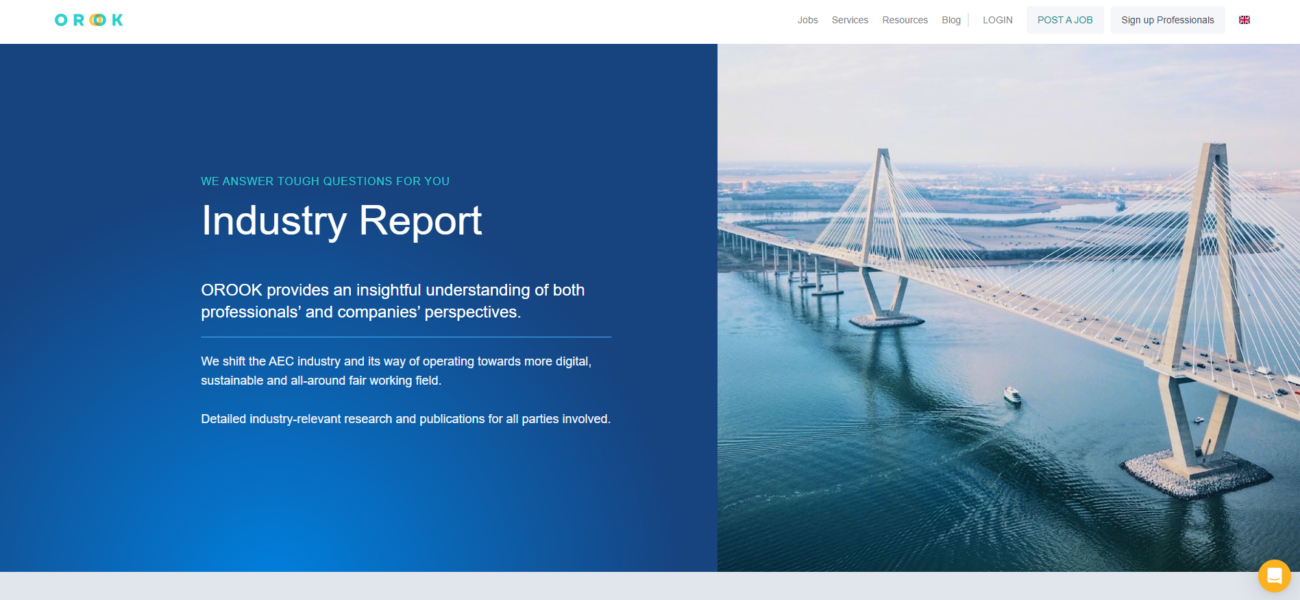 Promoting Sustainable Practices
OROOK is determined to transform the AEC industry, creating a digital and sustainable working environment where fairness is key. By placing ethical values at the forefront of its mission, OROOK helps ensure that all AEC players have equal employment and advancement opportunities. And that is a standard practice that will continue well into the future.
Final Thoughts
In conclusion, OROOK is the platform of choice for finding reliable digital solutions specifically tailored toward professionals and companies in the AEC industry. The automated recruitment solutions make it easy for companies to find qualified candidates, while simplifying profile registration makes it easier than ever before for engineers looking for employment or new opportunities within the field.
With its improved user experience, vast educational course knowledge, expanded services, and innovative features, OROOK is set to become an even more essential resource for anyone looking to build a successful career in this exciting and dynamic field. 

Join OROOK today in the mission towards a more digital, sustainable, and fair working environment – from engineers for engineers!